Europe's leading retail exchange for buying and selling cryptocurrencies like Bitcoin, Ethereum, Ripple and more. Fast, secure and 24/7.
Click here to start trading cryptocurrencies on Bitpanda
Key Advantages / Features
Europe's fastest and cheapest cryptocurrency broker
(1.49% buy, 1.29% sell fee for Bitcoin trading)
EUR, CHF, GBP and USD support
Free-of-charge sending of cryptocurrencies to other Bitpanda users and to any email address in the world
Optimised personal portfolio management system
Personal contact list, which can be easily created and managed
Better usability, improved speed and new features
Extensive Helpdesk and expert, high-quality support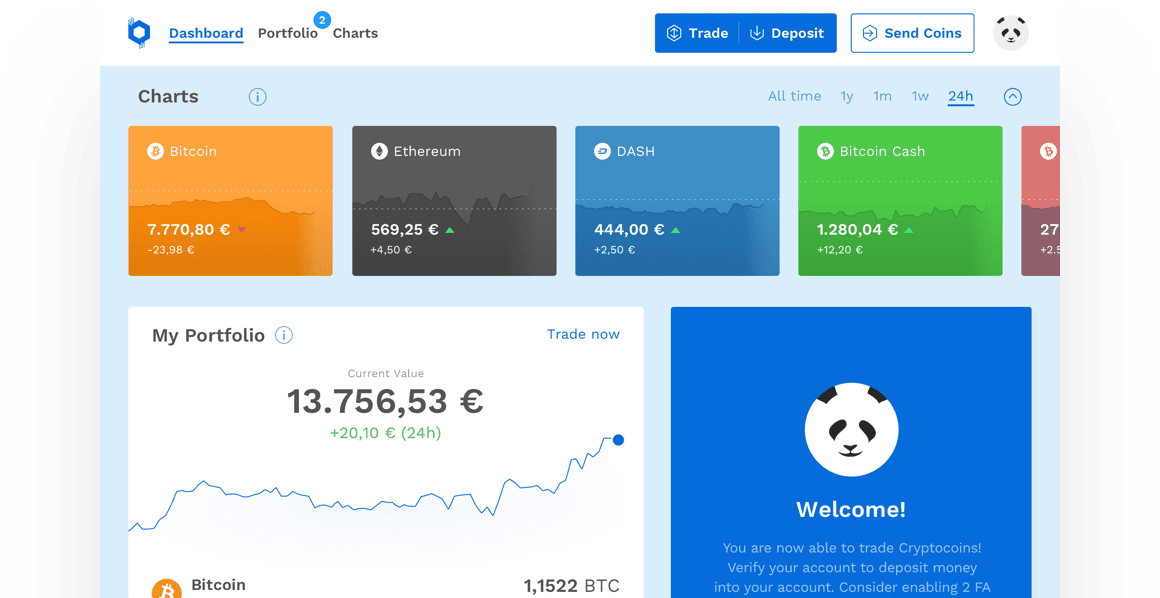 Company Info
Bitpanda is a fintech company based in Vienna, Austria specialised in selling and buying Bitcoin and other cryptocurrencies.
It has quickly grown to become Europe's leading retail broker for Bitcoin, Ethereum, Litecoin and more with over 850,000 users.
Bitpanda.com is a fully automated platform: As soon as payment is confirmed, the Bitcoins or other cryptocurrencies are automatically sent to the buyers. This technique allows us to provide our customers the best and fastest service in the business.
Products
Buying and Selling Cryptocurrencies
- Bitcoin, Ethereum, IOTA, Litecoin, Ripple, DASH, Komodo, Bitcoin Cash, and more to come
Bitpanda To Go (vouchers available in over 1,800 austrian post office branches)
Bitpanda Plus (special service for high volume customers) Bitpanda Affiliate
Payment / Payout Methods
SOFORT-Transfer (available in Austria, Belgium, Germany, Italy, The Netherlands, Spain, Switzerland)
Credit Card (Visa / Mastercard) (payment only)
NETELLER
Skrill
GIROPAY / EPS (payment only)
Amazon.de Voucher (payout only)
Bank Transfer
Fiat Wallet (Euro, British Pound Sterling, US Dollar and Swiss Franc)
Supported Countries
Selling cryptocurrencies on Bitpanda is possible worldwide.
Users can choose between NETELLER or Skrill as a payout options. Additionally, SEPA and Amazon.de vouchers are available in supported countries.
Purchasing cryptocurrencies on Bitpanda is possible in a wide range of countries.
Buying on Bitpanda is currently available for European users within the Single Euro Payments Area (SEPA), consisting of the majority of EU member states as well as Iceland, Liechtenstein, Norway, Switzerland and Monaco. It is possible that the verification may not work for users from individual EU countries temporarily.
Security
SSL-encrypted website
DDoS Protection
User funds stored on cold storage
Two-Factor-Authentication
Device and session overview and log out
Languages
Website: English, German
Support: English, German, Italian, Dutch, French
Click here to start trading cryptocurrencies on Bitpanda