Caratz proposes a cryptocurrency exchange that would be based on proxy features. It would enable direct transfer of cryptocurrency tokens. The trading or exchange can be done on a different platform as well as through social media channels. The exchange would be a decentralized one that would allow users to interact and trade in a cohesive and secure ecosystem. The transactions would be convenient, instant and secure. The platform would have several unique features that would take cryptocurrency trading and exchange to the next level.
Features of Caratz
Being a proxy exchange there would be several helpful features of this platform:
It would be based on the cryptocurrency framework where blockchain methodology will ensure that transaction records are secure, transparent and automatically generated between the users.
Those who are users of the platform would be able to transact in different cryptocurrency tokens on the platform.
It would make cryptocurrency tokens of different kinds easily available to many who would like to invest in profitable cryptocurrency tokens.
The platform would be available for people to sign up for different countries with multilingual support.
It would have cross-platform compatibility features; people can also integrate their social media accounts with this platform.
It would have a decentralized, integrated exchange that would allow a peer to peer direct transfer of cryptocurrencies between the users.
Simple and intuitive user interface would make cryptocurrency trades easy for anyone.
Users would have access to a digital wallet that they can find and link other ERC-20 compatible wallets to this platform as well.
The platform would allow token transfers based on smart contracts that are generated through the Ethereum blockchain technology. There would be on house API transfers that would accredit user accounts till users withdraw their funds to any other external wallet.
Team behind Caratz
This project is being handled by different professionals in related fields such as Gabriel Govinda who acts as a Consultant and brings considerable expertise from his trading days in Australian Securities Exchange. Danish Chaudhry also works in a Consultant role for the company and has expertise in asset management and quantitative analytics. Others, such as Thomas Bence and Alexander Minkov also work as consultants and bring their considerable qualifications and expertise to this field.
Should you invest in Caratz?
This business model proposes an exciting trading model whereby cryptocurrency tokens of different kinds would be available for easy trade and transfers. This would definitely be a need for the valuation of different ERC 20 tokens increase and supplies of these tokens remain limited. Hence, this model would be a lucrative platform for users to trade in different ERC 20 tokens easily. If you wish to invest in a business model that has much potential in the cryptocurrency world, then you need to invest in this project now. It is best that you visit the official website to gain more information before making an investment decision.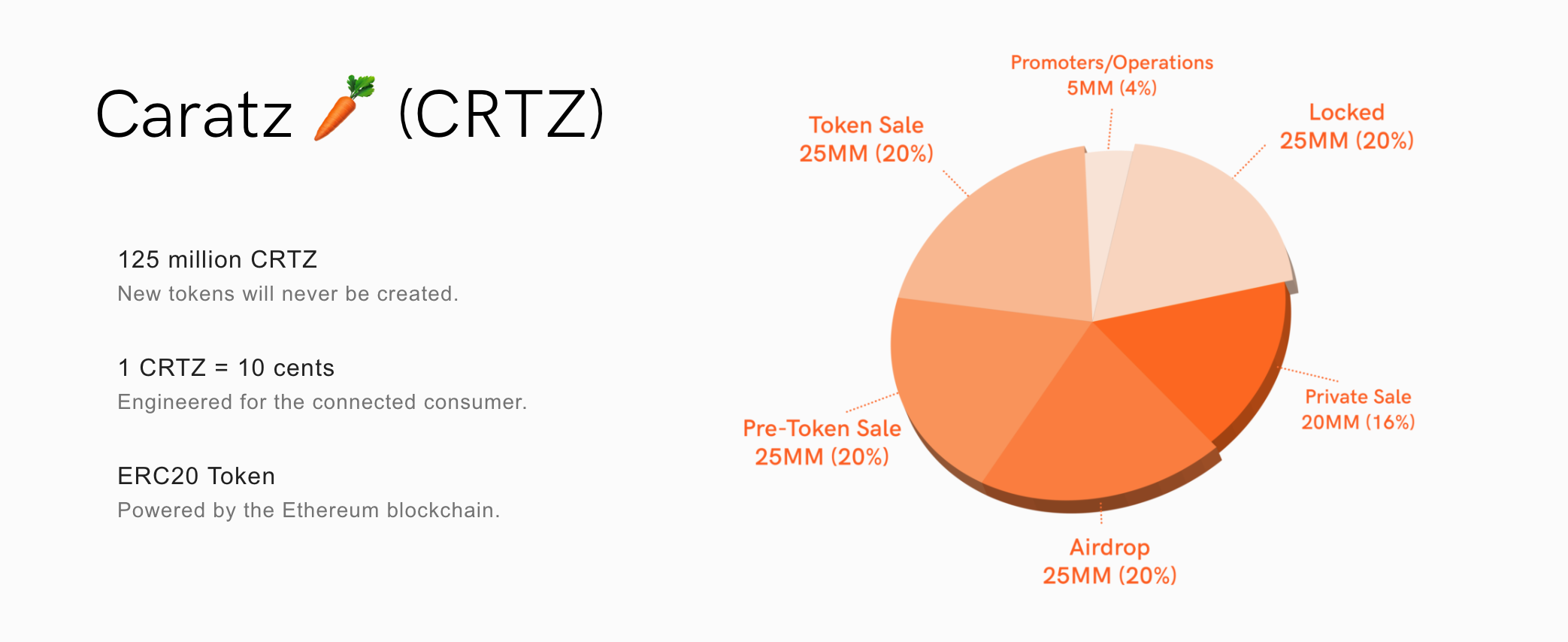 Token Details
ERC20 compliant
SYMBOL - CRTZ
TOTAL TOKEN - One Hundred Twenty Five Million CRTZ
1 CRTZ = $ 0.10
Links
Website: https://caratz.io/
Whitepaper: https://caratz.io/whitepaper.pdf
Telegram: https://t.me/CaratzChat