Introduction to Beaxy
Cryptocurrencies have a lot of potentials and took the world by storms in the year 2017. Yet there is a big loophole in the working process of the cryptocurrencies that lies in their own complexity of functionality. In short, if one were to define the cryptocurrency scenario of present times in a sentence, then it would be something like this- A mammoth of potential but with complex intertwined strings of connectivity. While buying and selling cryptocurrencies on a single platform is a humongous task in itself, users have to deal with issues trading across multiple platforms, converting cash into cryptocurrencies and securing their wallets etc. Besides the mainstream issues, there are issues such as poor or completely non- existent customer service and scattered unorganized investment tools.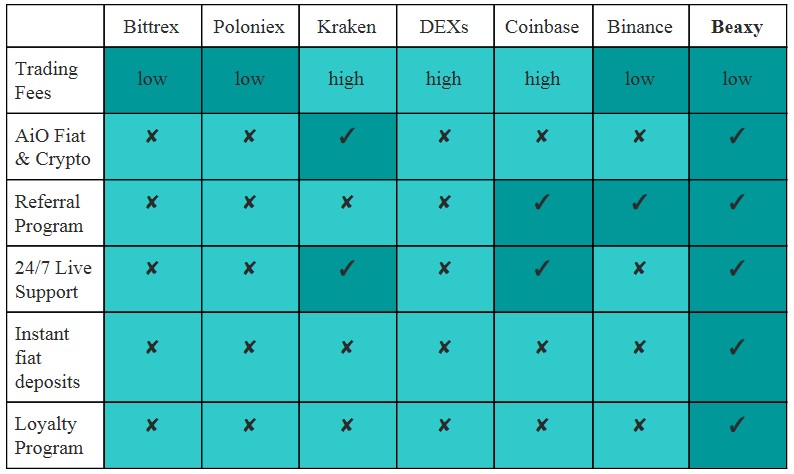 Beaxy exchange review
In comes Beaxy, which is built on the idea of simplifying the cryptocurrency investment process and unifies all kinds of investments including crypto money and fiat money on a single platform. They have security checks, investment tools and incorporate the needs of a newbie as well as experienced investors.
Features of Beaxy Platform
Discounted trading fee- Wire transfers, as well as ACH, is supported and for the accounts that are already approved, instant deposit feature is also available.
24X7 support- The customer support services are worth acknowledging as they have 24 or less than 24 hours response time and have embedded live chat feature into their platform. They provide coverage of customers in multiple languages, over multiple regions.
High security- Beaxy is enabled with automated IP whitelisting and have infused PCI- DSS as well as ENISA security standards into their database. This translates into confidentiality and integrity of data of users.
High performance- Solving the problem of platform crashing, beaxy touts high throughput capacity and is stupendously capable of dealing with huge amount of transactions in a given frame of time. The latency is less than 1ms.
Beaxy Token Sale
The presale of the tokens will be presented with a 20% bonus and the ETH: BXY ratio will be fixed at some point nearer to the date of the presale.
The BXY tokens are an ERC20 type and there are a total of 60,000,000 tokens for the sale of which 25 million will be reserved for shareholders and 15 million will be kept as company reserve. 60 million BXY tokens will be available during the public ICO. The hard cap value is determined at 30,000,000 USD and the soft cap is fixed at 5,00,000 Usd below which the project will be dropped altogether.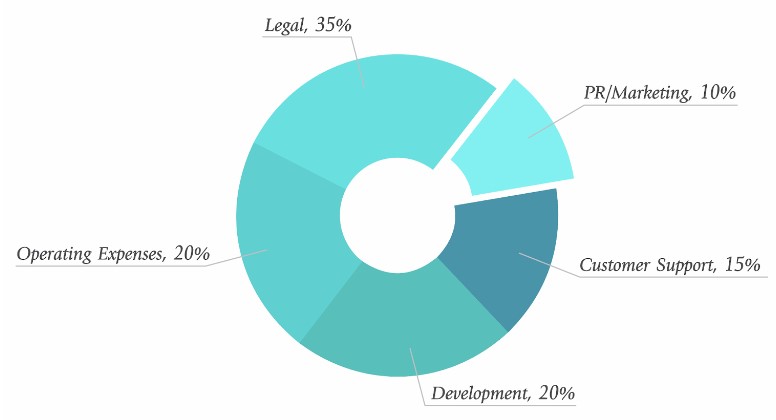 25 percent of the funds raised through the ICO will be used for company development while a whopping sum of 35% will be reserved for legal operations. 20 percent of the funds will be dedicated towards the marketing costs of the platform and 10% will be reserved for the operational costs.
Token details
ERC-20 Compatible
Total supply: 1 000 000 000
Symbol: BXY
ICO Start date: June 15th, 2018
ICO End date: August 18, 2018
ICO Price: Not determined till now
Links
Website: https://beaxy.com/
Whitepaper: https://beaxy.com/docs/Beaxy%20Whitepaper%20v1.5.pdf
Bitcointalk: https://bitcointalk.org/index.php?topic=2912122.0
Telegram: https://t.me/Beaxy
Forum username: baxxx https://bitcointalk.org/index.php?action=profile;u=1022279